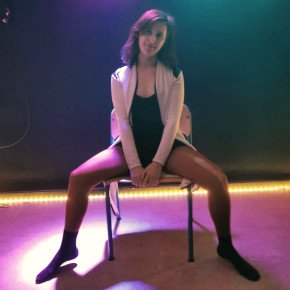 Hi! I am Eva, 33 years old.  I love to spend time with my partner, family, pets and friends.  Finding reasons to move me every day are them, but also being loving and creative by drawing, writing, talking, dancing, listening to music, volunteering at Pixie Surprise as a princess for children, walking and dreaming. I find it important to feel the fantasy and dreams like when we were children and trough being creative it finds its way to stay young in my head and heart.  A social worker by heart, I am currently working at Hejmen.  I help people with disabilities in their everyday life.  Why did I choose to be a social worker? I believe that the most important thing in life to me is connecting with people. Coming out of my comfort zone is an everyday challenge to me and knowing I can help others, gives me strength. Because I am highly sensitive, I feel a lot of energies everywhere without a filter.  I want to make this my strength. At work, in everyday life, and also trough dancing.
Why becoming an instructor?
The way I see it, dancing is in everyday life.  Every movement is expression. Most of our communication is non-verbal; it is very powerful in every little or big movement you send out. Expressing this movement while dancing on music, is making your own art of language. When I am dancing, I am connecting with myself on a higher level than words can not comprehend.  The reason for wanting to be an instructor is transferring this feeling of connection to others, by telling it like a story.  The power of dancing in a group creates every time another unique flow and is liberating. 
Why at body expressive?
The beauty of chair dance express is; everyone can do it because everyone can move!  Like your own unique fingerprint, you are able to move in your own way to music. You are the boss of dancing your story. And with good belief, it gives you the boost to use this feeling in everyday life. The different layers of energy trough this dancing gives you freedom.  Doing the effort to make this happen for others, would make me truly thankful.
Classes:
Body Expressive
All classes in-studio and online
(time displayed in CET: GMT+1 Wintertime | GMT+2 Summertime)
Thursday 19:00 – 20:00
Katrien | Audrey
Sunday Workshop 12:00 – 14:30