"Joyful for body and mind"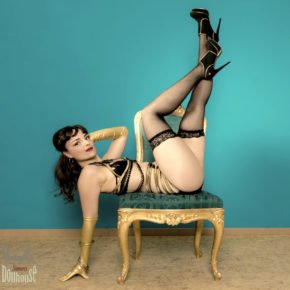 Lilith D'Licious (Headmistress of Sinners Dollhouse Burlesque) has a passion for dance and stages since her childhood. Through the years she followed various classes and international workshops. She is trained in a wide range of dance styles such as ballet, jazz dance, hip hop, street dance, flamenco, Oriental belly dance, pole dance, ragga, Argentine tango, Burlesque… AND now also Chair Dance Express!
Express yourself, a story, and emotions while dancing with and around a chair. Enjoy a fun workout with different accessible choreographies and room for your own interpretation.
Testimonials:
I am so happy I finally found the time to follow the Chair Dance Express instructor training. Kate is a warm and enthusiastic person with a unique style. Her classes are joyful for body and mind with choreographies rich in stories, emotions, and self-love. The instructor training consists of the theoretical part with a well-written handbook (teaching methods, the flows & energies, chair moves…), homework to get to know the style and really valuable feedback on your own chair choreographies & ideas. I loved every second of the training!